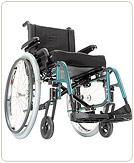 Straight Canes - Straight canes are available in a wide assortment of handgrip styles. In addition, you will also find stylish and sophisticated finishes. Adjustable in height
Available in a variety of woods, acrylics and colors
Quad Canes - Quad canes offer more stability than a straight cane. They are available with a small or a large base and come in a wide assortment of handgrip styles. You will find they come in a variety of finishes for a stylish and sophisticated look. Adjustable in height
Available in a right or left hand use
Folding Canes - You will find this folding can extremely portable and easy to travel with. Folding canes are available in a wide assortment of handgrip styles. In addition, you will also find stylish and sophisticated finishes. Adjustable in height
Available in a variety of finishes
Folding Walker - These contemporary walkers feature wide, deep frames with more height adjustments for enhanced legroom. Ergonomic folding mechanisms open and close more easily and the anti-rattle silencers make the walker quieter than ever before. By providing both comfort and stability, folding walkers enable people to walk with confidence. Composite lower side brace stiffens walker frame and adds stability
Lighter and easier to lift and maneuver
PVS handgrips wear longer and provide greater comfort
Quieter operation
Ergonomic release button
Minimal effort is required to open and close the walkers
Folding mechanisms are easy to reach from a seated position
Walkers fold easily for transport or storage
Walker Accessories - All of our walkers come with a list of available accessories for your comfort and convenience. From a basket or tray to glide brakes and wheels you can customize your walker just the way that
you want it.
4-Wheeled Walker - The 4-wheeled walker offers the most stability of any type of walker. It comes with hand brakes and a seat. This versatile walker combines a lightweight frame with our patented "Feather Touch" hand braking system. Easy to lift and perfect for strolling outdoors. A basket is included on may models. This type of walker is available in many different colors. Optional accessories include: Rubber seat pad, tray, tote bag, cup holder, light, basket cover bag, hanging walker bag, & travel bag
Transport Chairs - The super light transport chair adds style to patient transport and weighs only 19lb. This makes lifting easier for the care provider. Quick release fold-down back allows the chair to fit compactly into small areas. Comfortable padded black cloth material is re-enforced to prevent stretching and ripping. The super lightweight design is a great alternative to heavier wheelchairs and standard transport chairs. Lightweight only 19lb.
Available in Red or Blue metallic finish or chrome
Premium upholstery padding
8" front and rear casters
Hemi spaced footrest & elevating leg rest
Padded fixed arms add comfort
Sealed bearings
Manual Wheelchair - Manual wheelchairs are available in many sizes and weights. This is important to insure the proper fit for your size and strength. A standard manual wheelchair will weigh 36lbs or more. A lightweight wheelchair will weigh 34-36lbs. A high strength lightweight wheelchair will weigh less than 34 lbs and an ultra lightweight wheelchair will weigh less than 30 lbs. Your Allcare Medical Representative will help you to choose the right wheelchair for your needs.
Scooters- Allcare Medical offers a full-line of luxury-scooters that offer compact-style, power and dependability. Each is designed to allow you to maneuver through all your daily obstacles, inside or out. Available in many beautiful finishes that will make you the envy of all your friends, while your newly found freedom will provide you with a fuller, richer life. Let Allcare Medical take all the worry out of purchasing a scooter. Our representatives will help you choose the perfect 3 or 4 wheeled scooter that is right for you.
Stylish and Easy to Operate
Excellent Indoor/Outdoor Maneuverability
Disassembles Quickly and Easily
Lightweight and Portable
Standard Front Basket
Highly Visible Tail Lights
Infinite Adjustable Tiller Design
Head Light for Safety
360 Degree Swivel Seat
Flip-Up Armrests for Easy Transfers
Adjustable Seat Height
Easy Access Charger
Stores in most Vehicle's Trunks
3 and 4 Wheel Models Available
Accessories include: Rear view mirror, front basket, cup holder, oxygen cylinder carrier, cane or crutch holder, cane clips, saddle bag, walker holder, rear basket, weather canopy, Power Seat Assembly, Safety Flag, Hand Brake, Dust Cover, Touch-up Paint, External Battery Charger, Taillight and Lap Belt. Note that some accessories may not be available on some models.
Powerdrive Wheelchairs
The new improved powerdrive wheelchair is a smaller, lighter and more maneuverable. This is because of the mid-wheel drive, which makes the chair more compact and allows for a smaller turning radius. With multiple base sizes, controller types (programmable and non-programmable), shroud colors, optional rehab seat-pan and a compact footprint, these chairs are comfortable, maneuverable and stylish.
Smooth Handling. The mid-wheel drive features independent suspension on all 6 wheels. This system helps smooth curb-impact, prevents hi-centering, and dampens the rebound on today's rugged street terrain.
Ease of Use. These powerdrive wheelchairs have a very small footprint, which means that the they can maneuver in tight confined living quarters and fit into smaller storage spaces that larger powerdrive wheelchairs.
Multiple Seating Options. These powerdrive wheelchairs feature both a standard comfort seat and an optional rehab seat-pan with comfort backrest. The seat-pan option is excellent for users who may need added pressure relief and/or positioning.
Available options (options not available on all models): Power elevating seat, Angle-adjustable footplates, Rear basket, Can/crutch holder, Oxygen tank holder, Elevating legrests, Swing-away joystick, Dust cover, Cup holder, Lap belt, Safety Flag.