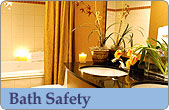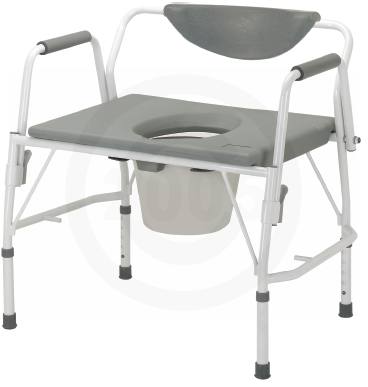 Transfer Benches - Transfer Benches extend beyond the edge of the bathtub and are designed to help make transfers in and out of the bathtub as safe as possible. They have a comfortable seat so you can sit down while you shower, and arm rails which provide you with additional support. If your mobility is restricted or you're using crutches, a walker, or a wheelchair, a transfer bench will help you get in and out of the tub without fear of slipping or falling. Available with or without padding
Available with or without commode opening
Durable 1" anodized aluminum frame will not rust
Reversible backrest accommodates right or left transfers
Height adjustable in 1"-2" increments
Non-marring, non-slip rubber tips
Arm rail for support while bathing and transferring in and out of the tub

Shower Chair - Shower chairs provide a comfortable seating surface for bathing or showering. If you have low endurance, or difficulty standing in the shower or tub, our shower chairs will provide you with a safe way of bathing. They are designed for individuals who require seating support when bathing or showering and fit in virtually any standard tub or shower. Available with or without backrest
Available with or without padding
Blow-molded seat and back
Drain holes and ergonomic handles on seat
Height adjustable in 1" numbered increments
Non-marring, non-slip rubber tips
Built in hand-held shower holders
Rehab Shower Commode Chair - A rehab shower commode chair is ideal for those who have difficulty standing or who are wheelchair bound and have access to a roll-in shower. Constructed with a one-piece frame and a quick drying vinyl covered foam seat and vinyl coated mesh back. These chairs offer the user and caregiver the features that make bathing safer and more convenient. Stainless steel frame and fasteners are corrosion and rust resistant
Chairs fit over most toilets with a seat that rotates 360° providing maximum accessibility in personal and perineal care
High density padded seat provides unmatched comfort
Vinyl coated mesh backrest allows free flow of water and is easy to keep clean
Flip-up armrests stow out of the way for easy transfers
Includes heel loops, commode bucket, rear tipping pads, and swingaway footrests
Bath Board - Bath boards offer a convenient seating option for use in the tub. They clamp on the side of the tub, providing a solution for users who don't require the support of a transfer bench, but do need help in transferring. Textured, non-slip surface
Easy to clean one-piece bow molded design
Soap tray
Portable and easy to install
Fits most bathtubs
Wide comfortable seating surface
Ergonomically positioned drain holes
Wall Mounted Grab Bars - Wall Mounted Grab Bars offer safety and support throughout the bathroom. The heavy gauge steel is enamel coated for durability, rust resistance and an attractive finish that matches most décor.
Wall mounted grab bars can be mounted horizontally, vertically or diagonally.
These attractive grab bars are available in 12", 16", 18", 24", 32" and 36" lengths and right angle and left angle.
They may be used separately or in combinations to offers safety and support when using shower, tub or toilet.
Bath Tub Edge Grab Bar - A Tub Edge Grab Bar provides safety and support in and around the bathtub. Its step-through design provides an unobstructed entry/exit path allowing better hand positioning. Tool free installation and large rubber lined pads won't mar tub surfaces
Made from a durable composite plastic
Attaches to standard tubs with walls up to 6-1/4" thick
Available in white and off white
Available with single and hold or multiple hand holds
Raised Toilet Seat with Arms - Toilet safety products make the bathroom a safer environment for individuals with special needs. A Raised Toilet Seat will provide added support and safety if you have difficulty in standing. Available with and without arms
Clamp-on locking mechanism tightens easily with one hand
Attaches without tools and fits on most commode configurations
Non-skid pads prevent the seat from slipping
Rear seat wings for more secure attachment
Contoured seat for internal rotation of hips
Ample depth of front recess makes hygiene performance more convenient
Raised Toilet Seat - Raised Toilet Seat will provide added support and safety if you have difficult in standing. Free standing commodes with removable arms are also available for wheelchair bound or non- ambulatory patients. Available with or without padding
Available with or without locking attachment brackets
Elevates existing seat height by 5in
Comfortable, contoured seat is made of easy-to-clean, durable molded composite
Recommended for use with Toilet Safety Frame
Toilet Safety Frame - The installation of a toilet safety frame will provide added support and safety if you have difficulty in standing. Arms fold back for cleaning and are easily removed for transfers
Frame made of anodized, non-corrosive 1in aluminum tubing
Aluminum bracket is easy to attach
Armrests provide secure hand support
Adjusts in height
Can be used as a pair or just one side
Hand Held Shower - A hand held shower allows the user to enjoy a refreshing shower while safely seated. These hand held showers are convenient and lightweight. They attach to the wall by a bracket and can be turned off while soaping up and turned back on to rinse. Available with or without pulsing massage